I had the pleasure to interview stylist Lydia Zimnoch about all things fashion and interior design related. She gave some great insight into her world within the industry. Lydia is a all round stylist and is available for bookings via id couture.
1. How would you describe your style?
I am truly a jeans girl, I always feel the most confident and true to myself in jeans even when slightly dressed up I often still wear a pair of high waisted skinny black jeans with heals or boots and a great top & accessories. On the weekends off duty you would often find me in a great tee and a pair of jeans varied from ripped boyfriend jeans, or feature flared ones, through to almost every colour available in skinny high waisted ones. I layer with accessories or jackets etc. My style is eye catching in mood rather than bling or fuss. I love toning things down with an element of cool or rock chick with certain accessories or mixing a basic great tee under a beautiful blazer or stunning detailed skirt etc. even for more formal occasions I am never the razzle dazzle pretty princess and I prefer the side of confidently understated but still wearing something that on a design aspect is clever.
2. What are your main style tips for clients?
Learn your body shape and what best suits it, find what personal underlying style speaks who you are & makes you feel the most like "you" and run with that. A person confident in them selves is the most beautiful and eye catching thing.
3. What are the key trends this season?
There has been plenty of gingham popping up through many labels, I've also been loving deconstructed shirting, so many great designers in clever button shirts constructed differently in stripes, gingham or plane cottons. For us in Australia heading into winter the mulberry colour is a key colour of trend this season.
4. What are your shopping tips?
Don't buy something just because it's either a. on sale or b. the trend of the season. Never! Remember just because if it's the trend of the season doesn't mean it works best on you. That is the same for colour, if a particular colour appears everywhere in one season that doesn't mean that you too have to wear that colour if it doesn't work well on your skin and with your features. We have to stay true to ourselves and what works on us in order to look and feel like the best version of ourselves.
5. What are your tips to style a room?
Choose a simple colour palate & a mood/style and select and style to that. Rooms have characters, when I style a house I love creating each space with its own clear mood, colour palate and personality.
6. What do you love most about styling?
When styling people, I love the confidence it brings someone at then end of a session where they normally have a new license on themselves. For commercial and photo shoots I love bringing amazing ideas to life and seeing it all come together. For property styling I love the bigger scale of intricate selecting of so many items coming together to create that beautiful space. Styling is always so varied from each individual job and I love that diversity & that challenge.
I love that styling is making your creative vision and a thought of identity visible into a physical reality.
7. How do you stay updated with current trends?
This world has everything at your finger tips online. So easily now you can connect yourself on social media & sites to magazines, music, art, retail stores, individuals & creative people that inspire you. Getting out about and seeing what is out there is also incredibly important.
8. What age did you first become interested in styling?
For me it started as a child. I was 5 when I learned how to sew on a small child sewing machine and create items I had thought up of for me to wear or to put in my little bedroom. From there I kept evolving in my creativity. I moved into designing while studying at university and working as a sales assistant stylist within retail stores, then eventually went on to own my own fashion boutique which had me creating with many designers, local magazines and fashion events. As well as continually styling clients. After this I moved on to styling alone spreading my wings and expanding from not only fashion styling but now I also do interior design styling.  It's an amazing job and I love it.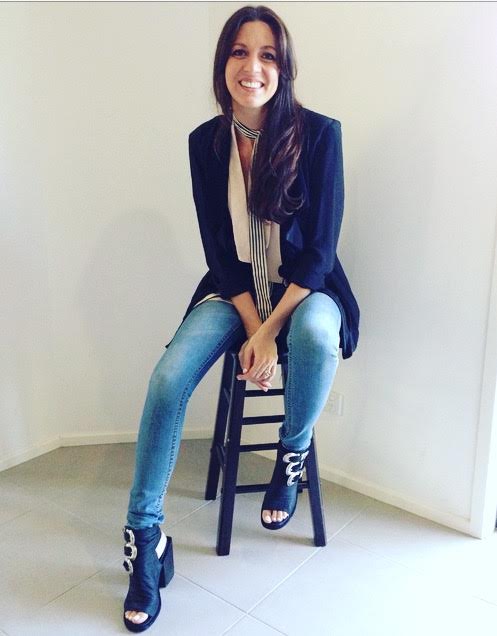 If you would like to book Lydia for your next styling project, please
get in touch
.
By Olivia Wecklerle